Quality Over Quantity (Episode 35)
Season 4, Episode 35: Quality Over Quantity
This life lesson may be something we all know we need already, but when you have children, that lesson is very in your face, especially when you are working from home.  So how do you keep your sanity, free yourself from obligation, and yet still have that precious "quality time" with your family?
Listen to this episode on iTunes, Stitcher, Google Play, TuneIn, YouTube, Spreaker or your RSS Feed
Where are we?

 
Fort Myers Beach, Florida!  Check out the awesome work being done at Crow Clinic, who just celebrated their 50th anniversary.
Meet our awesome new friends, www.LetsTravelFamily.com and over on Instagram as @letstravelfamily
It's about Quality Time, not Quantity
Maybe you've rolled your eyes at the cliche "quality over quantity" a time or two. I have, too. Trying to rate what is truly "quality" can be tough, especially when you're stressing about the "quantity" of time you actually don't have!
Life Doesn't Fit Into Perfectly Closed Boxes
As an entrepreneur, I have to say there are times that I can look with envy at the person with the traditional job who clocks in, works their shift, clocks out and completely leaves work at the office. When you have your own business, freelance, or any other variation of entrepreneurism, it's hard to draw that clear line in the sand.
Work and play can seriously overlap. This is a double edged sword, but can also be pretty freakin awesome, since my work is scheduled around the life I want instead of the other way around.
There Are Days…
I struggle with the fact that I'm working from home and juggling two jobs. I feel pulled when I see all of the family playing together and I'm behind a computer screen. But I've figured out something super important: working from home is so overrated.
Let me first say that working from home does not guarantee that you will get to spend more time with your family. Sometimes, it is more a slap in the face of your family that you are there but not focused on them. Because, of course, the whole entire world revolves around your tiny little angels, right?
Those Self-Centered Children
To a child, they are the whole world. Try to just empathize with them – they are experiencing a whole new world on a daily basis. The first five years of life – think of all you learn and start to do! The next five…adding in the realization that there are others out there who have their own emotions and perspectives on the world. And then the next five…figuring out how to mesh those two together and learn and go in harmony with others!
That's a broad generalization, and this is clearly a rant I've run down – but this will get me back around to my point. Young children simply live the life of wonder and awe that happens when you are experiencing something that could be the best – or the worst- on the whole world on a regular basis.
Quantity Is The Issue!
So getting back to working from home. In all their innocence and wonder, small children, especially, are completely oblivious that their parents may actually have something to do that does not involve entertaining them. So they barge in and you:
1. Shout "not now – I'm working!" and shove them out the door
2. Stop and listen and then get caught up in helping them that you lose the rest of the day and don't get whatever you needed to do accomplished.
Again, two broad brush strokes, but essentially the extreme to a common them:
Multitasking can result in you being a 'jack of all trades, master of none.'
Now you are stretched for time, your patience is thin, and you haven't really accomplished anything.
Focused Time = Quality
Time block. That's it. That's my solution, and that's what I highly recommend to each and every one of you. It is much, much better to be the parent who is looking into their child's eyes than sitting next to them on the phone going through your emails while you "hang out".
I'm the first to admit that it's hard, especially when, sometimes, it's flat out boring or annoying jumping into their play (oh yes, I did just say that, and you aren't the only one who doesn't really want to "play" all the time).
Here are our top tips to navigate time with your children so it truly IS quality time:
Bookend your day.

 

We've said this time and time again.

 

Be prepared.

 

Create systems and habits you can implement that makes it all much easier.

 

Pre-make your coffee, breakfast, set out clothes, etc. 
Talk with each other

about what is coming up the next day so everyone is on the same page.    

Inspect what you expect – allow for time to assess if what you are doing is actually working!
Build your list.

 

Clear your head.

 

Dump out the list of to-dos in your mind.

 

Write off the things you need to get, to do, to accomplish.

 

Clearly communicate what needs to be done.
Time block.

 

When you really need to work, literally separate yourself from all distractions.

 

When you work, work.

 

One hour of focused, undistracted time may allow for two hours of time to be with your children.

 

When it makes sense, include your kids, sure.

 

But if you have a looming list of tasks, you can spend more focused time with them if you separate it out. When you block off specific time, you help to prevent living in reaction. 
Shut down the notifications. Turn off your phone, your iMessages, and any other alerts. Close yourself off – shut the door, go somewhere. Don't be around your children, unless you are willing and able to handle interruptions.

 

With notifications, when you see it, your mind immediately goes there, and not on the present.

 

The world will not fall apart if you set times to check notifications vs. reacting whenever they crop up. 
If you are pressed, put parameters on your time together. Even taking 5-10 minutes to stop what you're doing and connect with your child may fill their bucket enough that they are able to then play for a stretch without you.

 

If you are an "I like to finish what I start" person, you definitely need to practice letting things go.

 

Blocking off a few minutes can make all the difference in the world.

 

It's not always the time-suck you think it is.

 

If you aren't sure what your personality style is, check out the Namaste Snapshots

.

When you do focus on your kids, make it valuable for both of you.

Stepping into their world can be beautiful.


But just because your child loves to play "cheetah" and run on all fours through the house for hours doesn't mean you have to fake enjoyment in that to connect with them.
CLICK TO TWEET

Find things that are mutually rewarding. Take a walk together. Cook together. Do a project. Sometimes we feel forced to play only in a 3-year-old's world, and they would jump at the chance to do something "grown up" with you.

 

Open up the creative aspect by combining a little of something you both enjoy…create "princess golf" or crayons plus watercolor.
Quality time doesn't mean only loose play time.

It can be 1-1 talks in the car. Sometimes it's reading a book or running errands together. It's focused attention on your child, where they know you are truly present. You can still accomplish grabbing that item from Target, but maybe it's couched in a date with your daughter and you spend time browsing the toy aisle with her just for fun, and grab a hot cocoa from Starbucks on your way out. I've had some pretty fun shopping experiences with the kids where I may have tackled the errands, but we spent a lot of time giggling and trying on clothes, checking out toys and simply exploring a store together.

Just hang. There are times when a plan and a focus is awesome.

 

And, there are times when no plan is the best.

 

Give yourself permission to not be "on" all the time with your children.

 

Allow for boredom – it spurs on so much creativity.
If you are looking for a conversation starter, we're only half way through our 30-Day Get the Conversation Started Challenge, so be sure to ask your kids, your spouse, your friends or even share your own answer to one (or all) of our daily questions.
Not only will you get the value of starting a fun conversation with a loved one, you'll also be entered to win a free personality snapshot.
There is no perfect equal balance in life – it's a give and take and constant navigation.
What are you doing in your home to instill that quality time?
How are you balancing work and family?
Be intentional about your time, and look for opportunities to simply invest in your children. Some days are better than others. Kids are resilient and can be very forgiving. But it takes some deposits in their own lives to establish that security in your relationship.  Then they can allow you your space to get things done.  They know you place a priority on them and they will have their time with you as well.
Your action step this week: Try "Talkie Time" with your children. Set a timer for 5 minutes and just have a focused conversation where you let your child lead it. You don't have to make a big announcement, just sit with them and let them know the attention is all on them. Five minutes is longer than you think, and it's amazing where that path may lead. My kids love "talkie time" as their special chance to be fully heard and connect on a daily basis.
You don't have to title it or state what is happening. Simply sit down alongside your children.  Observe.  See what they are doing and they are focused on.  Sometimes the best way to connect with another is side-by-side, not head on confrontation.
Get yourself in the right mindset this morning.  Listen to my guided meditation from last week:  Breath In, Breath Out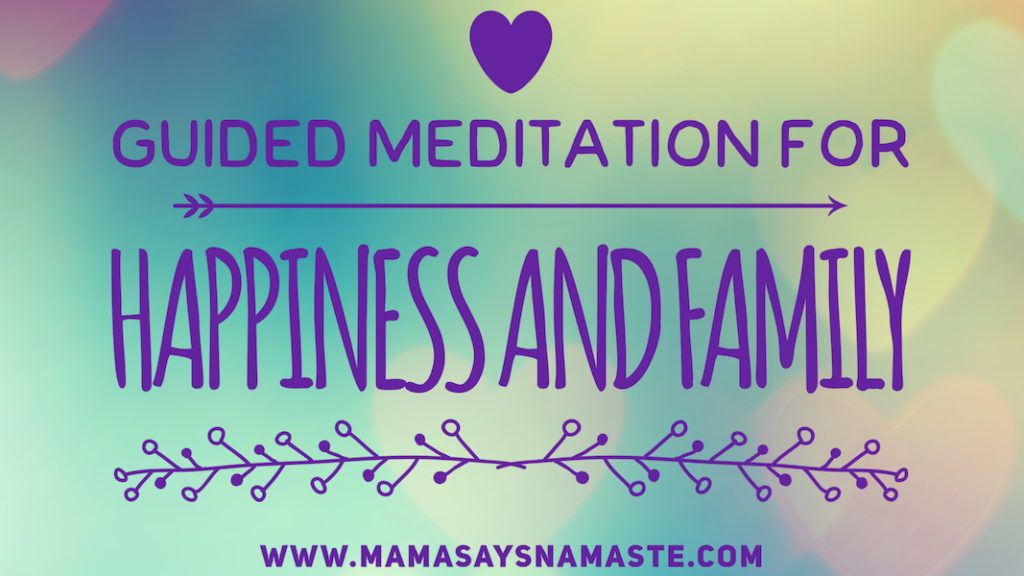 Care for some Q&A?  Hit us with any questions you have, and we'll send you a personal email response back and may address it on a future podcast!  Simply email Ashley directly at [email protected]
And remember, if you're liking what you hear, we want to hear from you! 
• Subscribe, rate and review on iTunes
• Post your comments/questions in the Mama Says Namaste Facebook Community
• Email Ashley directly at [email protected]
*Podcast music by the awesome Renee & Jeremy who cover "Put a Little Love In Your Heart" by Jackie DeShannon.  Props to both of them for this beautiful rendition that epitomizes what I want for families!